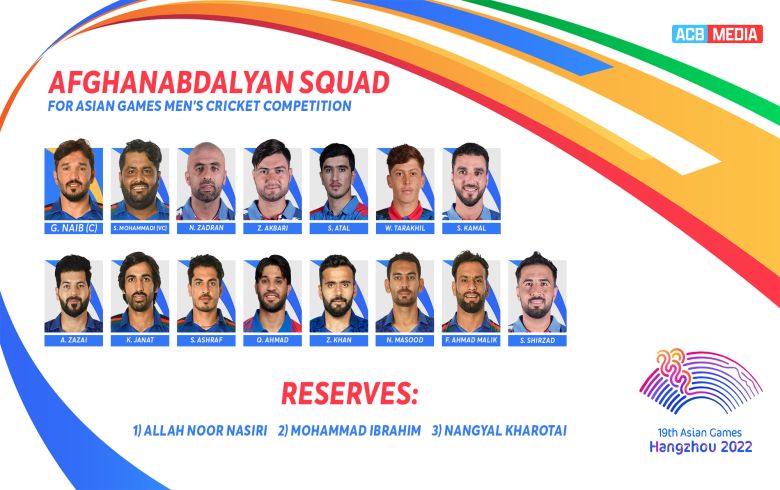 Kabul, September 20, 2023: Afghanistan Cricket Board's Selection Committee today named a 15-member AfghanAbdalyan Squad for the Asian Games Men's Cricket Competition, which will be played from September 27 to October 7 in Hangzhou, China.
Veteran All-rounder Gulbadin Naib will lead the AfghanAbdalyan squad which features the likes of Mohammad Shahzad, Karim Jannat, Sediqullah Atal, Fareed Ahmad Malik, Qais Ahmad, and Afsar Zazai, who have represented Afghanistan at the international stage in the past.
The squad also includes the likes of Noor Ali Zadran, Zubaid Akbari, Sharafuddin Ashraf, Sayed Ahmad Shirzad and Shahidullah Kamal who recently featured in the ACC Men's Emerging Asia Cup 2023 in Sri Lanka.
The AfghanAbdalyan squad also features Wafiullah Tarakhil, a talented Afghanistan U19 middle-order batter, who was part of the Afghanistan Future Stars lineup during the Afghanistan Home Tri-Series against Bangladesh U19 and Sri Lanka U19 in Abu Dhabi in March-April earlier this year.
As per the tournament's rule, AfghanAbdalyan will feature in the event from the quarter-finals stage, which is scheduled to take place on October 3-4, followed by the semi-finals on October 6, and the grand finale on October 7 in Hangzhou, China. The third-place play-off match which will be played for the bronze medal, will also be held on October 7.
AfghanAbdalyan Squad for the Asian Games Men's Cricket Competitions: Gulbadin Naib (C), Mohammad Shahzad (VC & WK), Sediqullah Atal, Zubdaid Akbari, Noor Ali Zadran, Shahidullah Kamal, Afsar Zazai, Wafiullah Tarakhil, Karim Jannat, Sharafuddin Ashraf, Fareed Ahmad Malik, Nijat Masoud, Sayed Ahmad Shirzad, Qais Ahmad and Zahir Khan.
Reserves: Nangyal Kharoti, Mohammad Ibrahim and Allah Noor Nasiri.
ACB Chief Selector Mr. Asadullah Khan: "We are aiming to provide these players with multiple opportunities to demonstrate their abilities on the international stage. This Asia Games event is also a good opportunity for them to do well and further groove for the higher level cricket. Our buildup has already been started for the ICC Men's T20 World Cup and we are working to prepare a strong group of players for that event."
Asian Games Men's Cricket Competitions Schedule:
October 3 – 4: Quarter Finals
October 6: Semi-Finals
October 7: Final