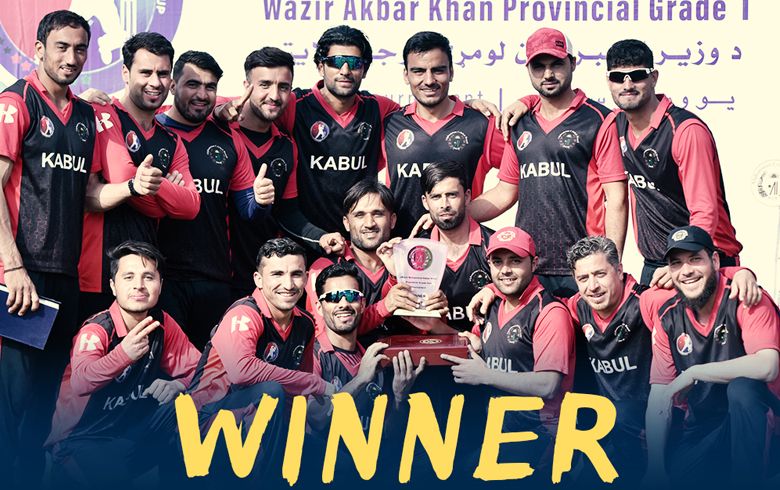 A five-wicket haul by leg-spinner Shafiqullah Ghafari and great batting performances from Younus Ahmadzai, Amanullah Rafiqi and Zia ul Haq ensured Kabul beat Khost B Cricket team to lift the Wazir Akbar Khan Provincial Grade I title at Kabul Cricket Stadium. Ghafari, who took 40/5 was adjudged player of the match for his tremendous performance.
Earlier in the day, Kabul skipper Nisar Wahdat won the toss and opted to field first in the Final match of the tournament. The decision proved to be an accurate one as Kabul bowlers, led by Ghafari, rattled the batting line-up of Khost B getting them bowled out for 214 in the 44th over. Abid Taniwal was the notable scorer for his team with 58 while Sabir Gurbaz and Masood Gurbaz also contributed with 39 and 33 runs respectively.
In response, Kabul made an easy task of the target chasing it in 32 overs losing only 2 wickets in the process as Ahmadzai, Rafiqi and Zia ul Haq scored half-centuries piling up 68, 60 and 56 runs respectively.
Khost B's Naseer Ahmad and Khalil Gurbaz were declared as the Best Batsman and Best Bowler of the tournament respectively while Faryab's Zahid Zakhail bagged the important award for Player of the Tournament. Meanwhile, Kabul's youngster Mohibullah Zurmati was announced as the Emerging Player of the tournament.
The Wazir Akbar Khan Grade I Provincial tournament, which was held between 10 provincial teams, started on 18th March in Khost and Nangarhar provinces concluding with the Final match today at Kabul Cricket Stadium.